Federica Bortoluzzi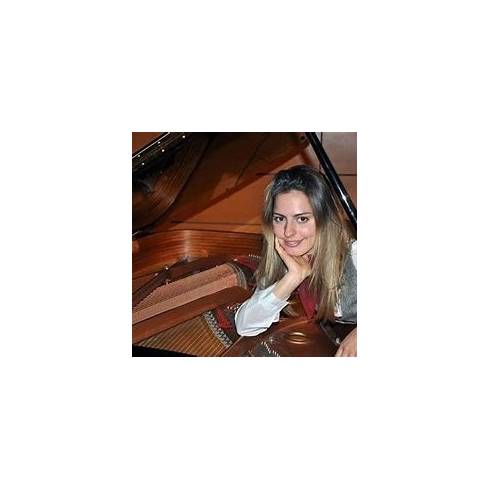 The artist
Federica Bortoluzzi
Born in Milan in 1988 in a family of musicians, she began studying the piano under the guidance of Alberto Colombo at the age of six. He perfected the study of the piano with Andrea Lucchesini and Maria Tipo, through whom he learned and shared a research and thought that marked his musical growth. 
At the age of 13 she gave a recital for the Season at the Playhouse in Vancouver, Canada, starting her first Masterclass, in collaboration with the Tom Lee Academy, an event that distinguished her by awarding her the merit from the House of Commons of Canada. In his concert career he has given concerts for organizations such as La Società dei Concerti in Milan, La Verdi in Milan, La Società Filarmonica in Rovereto, Fondazione Teatro Grande in Brescia, 
abroad in Greece in Lefkada and kythira, in Portugal at the National Theatre of Coimbra, in Austria at the concert hall of the Mozarteum in Salzburg, in Switzerland in the Auditorium of the Lugano Conservatory. In addition to his solo activity, he also dedicates himself to chamber music, a musical expression to which he devotes particular attention in the piano duo with the Pianist Giovanni Nesi, in the duo with the violinist Caterina Demetz, e in diverse altre formazioni. Come musicista è molto apprezzata per la genuinità e chiarezza delle sue interpretazioni anche da musicisti e personalità di chiara fama come A.Ciccolini, C.Katsaris, J.P.Luisada, V.Askenazy, J.Biegel, Bruno Canino.
He participated in numerous competitions, winning in 2014 the second Prize and Special Audience Prize at the prestigious International Piano Competition "Rina Sala Gallo" in Monza; among the various awards we remember the "M. Zana" Award 2011 for the best interpreter of pieces by Franz Liszt, as part of the Competition "National Prize of the Arts 2011 (AFAM) , "Camillo Togni di Brescia". Ha registrato per "Radio Classica" musiche di F.Chopin per la trasmissione "Il Pianista".Ha suonato in diretta radiofonica a Rai Radio3 alla trasmissione condatta da Oreste Bossini "La stanza della Musica", in duo con il pianista Giovanni Nesi. Insegna Pianoforte Principale all'Istituto Superiore di Studi Musicali "P.Mascagni" di Livorno.