Loredana Brigandì
Chopin
Chopin - Four Ballades & Four Impromptus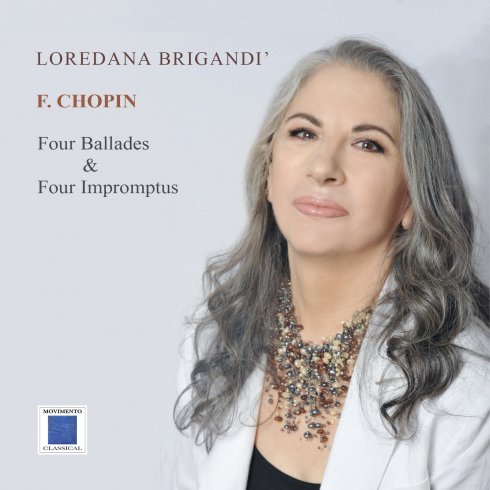 Loredana Brigandì
Chopin
Chopin - Four Ballades & Four Impromptus
The album
The lmpromptus and the Ballades of Fryderyk Chopin
Fryderyk Chopin (1810-1849) is the emblem of Poland and the piano. His entire activity waslinked to this instrument; his relationship with his native country instead presents a paradox: the son of a French father, he lived in Poland only until 1830 and never returned there. He then lived in France, especially in Paris. There he was one of the most celebrated pianists and sang love far his distant homeland with nostalgie and heroic tones. He wrote the four lmpromptus between 1835 and 1842. lmprmptus is a drawing room piece, composed as if in one go, in three parts. With Chopin he maintains the elegance that is his own,
combined with the lyricism and expressiveness typical of the musician. The most famous, in C sharp minor, composed first, was published posthumously (op. 66) with the apocryphal title of Fantasia-Im provviso: the parlar character turns into a dramatic and passionate tane in the extreme parts and imbued with nostalgia in the centrai section. The one in A flat major op. 29 (1837); almost solemn the one in F sharp major op. 36 (1839) which, however, hatches into a
long and volatile tail; the one in Gflat major op. 51 (1842). A common feature to them, in addition to the reference to a symmetrical ABA form, is an elegant script: with the exception of op. 66, has led many to underestimate them.
Thefour Ballades (1831-42) instead represent a cornerstone of concertism. They are ideally inspired by the ballades of the Polish Adam Mickiewicz; however, they do not retain any other sug gest io n.Moments of profound lyricism alternate with other heroic, technically impervious, expressively overwhelming moments. The first, op. 23, in G minor (1831-35) opens with a peremptory octave, develops into a panting melody, with the left hand as if to remember the heartbeat, alternates moments of virtuosity and passionate singing, ends dry, gravest o n e. The second, op. 38, in F major (1836-38), is based on two contrasting elements: a lulling dirge and a virtuosic section with anenthralling and desperate character. The third, op. 47,in A flat major, (1840-41) springs rich and articulated by a simple, aurora! motif. Thefourth, op. 52,in F minor, is apparently erratic but has a very solid structure (look at the "sonata form"). lt engages the performer in a poetic and technical expression of rare difficulty: passionate and desperate song of love, devotion and nostalgia far the distant homeland. There, by the will of Chopin, his heart rests today.