Giovanni Sollima - Carlotta Maestrini
L.v. Beethoven E.Sollima F.Mendelssohn-Bartholdy G.Sollima
Untitled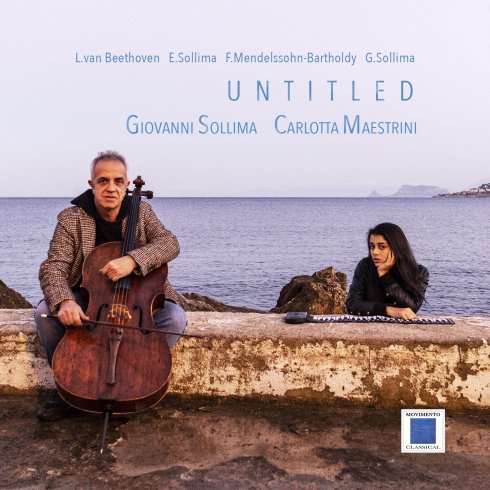 Giovanni Sollima - Carlotta Maestrini
L.v. Beethoven E.Sollima F.Mendelssohn-Bartholdy G.Sollima
Untitled
The album
"Untitledn,s birth took piace in a domestic atmosphere among the see, Resana, Carlotta, the sweet and huge Bernie, a piano and a cello. lts music, part of it at least, keeps telling stories connected to a private sphere, linking my compositions and my father's to Beethoven and Mendelssohn Sonatas.
What can we say about Beethoven that hasn't been already said? His Op. 5 n. 2 Sonata was written in his early years, during what was left of the XVIII century turning its eye already to the future: a visionary Beethoven, incredibly elegant and intense, expands the sonata form, leading it through extraordinary harmonic and dynamic paths. Of ali the five sonatas I was always struck by the shape, monumental in the first two, apollinean in the third (op. 69) and compressed in the last two from op. 102.
Mendelssohn, according to the chronicles ofthe time, performed the first Sonata several times with the ltalian virtuoso - but already famous abroad, living in London Town - Alfredo Piatti to whom he also dedicateci a short Canon. The fluidity of the beautiful themes, alternating with areas of counterpoint present both in the first and in the third movemen,treaches very high emotional levels in the second movement - which I would not define slow , rather dancing - nostalgie, in a minor key, with a perceptible Jewish root followed by a centrai opening to major key that sounds like a small miracle.
When dad composed the Aria, he was a teenager . lt must have happened between 1943 and '45, I am not sure; my sisters and my brother aren't aware as well... it's a short piece that for some time now I find myself playing in concerts or as an encore in three of its tour versions: celle and piano, cello and strings, celle quartet (a fourth version, perhaps the first, is fora string quartet).
Dad said he spent several nights in shelters during the bombings. There he used to write music, there he used to practice piano without an instrument (he did draw the keys on a wooden table). The title - Aria - is liberating and the song itself symbolizes, without pretending or any intention, the exit from a nightmare .
I composed Theme lii from "Il Bell'Antonio" in 2005. For the records, the song is part of a soundtrack fora two-part TV movie, by director Maurizio Zaccaro, which I would not calla remake of Mauro Bolognini's film shot 45 years earlier, starring two gorgeous ltalian actors Marcello Mastroianni and Claudia Cardinale; I would say it was more a different glance on Vitaliano Brancati's novel and, at the same time , on a condition made even more bitter - you can say tragically Sicilian - in the town of Catania during the fascist era. The piece is part of a suite of 1O movements for different ensembles: from the clarinet solo version, through the cello and piano one, up to the whole orchestra. I have not written much music for films but, as sometlmes happens, a piece can take its own path, and so it was for Theme lii which - by pure coincidence - I found myself playing severaI times in concert and which, in 2015, Yo-Yo Ma recorded with Kathy Stottfor her CD"Songs from the Are of Life".
Playing with Carlotta forme it means to figure out - day after day - her amazing talent, realizing that the exploration of a musical score has no age, that two distant generations are only age-related and that the strength of sharing and exchanging ideas and sounds it is timeless.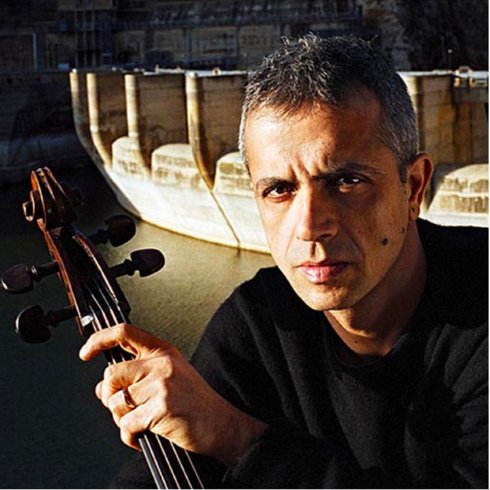 The artist
Giovanni Sollima
Is an internationally renowned cellist and Italian composer whose works are among the most performed in the world. He has collaborated with Riccardo Muti, Yo-Yo Ma, Ivan Fischer, Viktoria Mullova, Ruggero Raimondi, Mario Brunello, Kathryn Stott, Giuseppe Andaloro, Toni Florio, Yuri Bashmet, Katia and Marielle Labeque, Giovanni Antonini, Ottavio Dantone, Patti Smith, Stefano Bollani, Paolo Fresu, Antonio Albanese and with orchestras such as the Chicago Symphony Orchestra, Manchester Camerata, Liverpool Philharmonic (Artist in Residence 2015), Royal Concertgebouw Orchestra, Moscow Soloists, Berlin Konzerthausorchester, Australian Chamber Orchestra, Il Giardino armonico, Cappella Neapolitana, Accademia Bizantina, Holland Baroque Society, Budapest Festival Orchestra.
He composed music for Peter Greenaway, John Turturro, Bob Wilson, Carlos Saura, Marco Tullio Giordana, Peter Stein, Lasse Gjertsen, Anatoly Vasiliev, Karole Armitage and Carolyn Carlson. He has performed at the Alice Tully Hall, Knitting Factory, Carnegie Hall (New York), Wigmore Hall, Queen Elizabeth Hall (London), Salle Gaveau (Paris), Teatro alla Scala (Milan), Opera House (Sydney), Suntory Hall (Tokyo). Since 2010 he teaches at the National Academy of Santa Cecilia, where he is awarded the title of Academic. In 2012, together with Enrico Melozzi, he founded the 100 Cellos. In 2015 he composed the sound logo of Expo in Milan and inaugurated the new museum space of the Pietà Rondanini, by Michelangelo. Giovanni explores different genres using ancient, oriental, electric and inventive instruments, playing in the Sahara desert, underwater and with an ice cello. His discography began in 1998 with a CD produced by Philip Glass for Point Music, followed by eleven albums for Sony, Egea and Decca. He brought to light the eighteenth-century musician, Giovanni Battista Costanzi, of whom he recorded the Sonatas and Symphonies for cello and basso continuo for the Glossa record label. In October 2018 he received the Anner Bijlsma Award at the Cello Biennale in Amsterdam.
He plays a cello by Francesco Ruggieri (Cremona, 1679)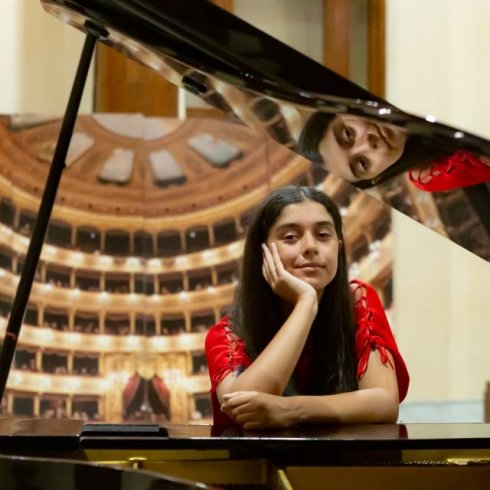 The artist
Carlotta Maestrini
Carlotta Maestrini began studying the piano at the age of 5 with V. Adamo at the Conservatory of Palermo where, since 2015, she attends the pre-academic course under the guidance of D. Sollima. First Prize at the "A. Trombone" Competition in 2015, in December of the same year she performed at the Teatro Massimo Bellini in Catania as the absolute winner of the international competition "G. Campochiaro". In 2016 she won the Second Prize at the Steinway Competition in Verona and made her debut at the Teatro Paisiello in Lecce with the Conservatory Orchestra conducted by F. Libetta. She performed in the United States in 2016 with the Greenwich Symphony Orchestra conducted by T. Simoncic, and in 2019 for the Key Biscayne Piano Festival and the Miami International Piano Festival, where she debuted with her first recital. Since 2017 she attends the Special Piano Course held by A. Lucchesini at the School of Music of Fiesole.