Maurizio Cadossi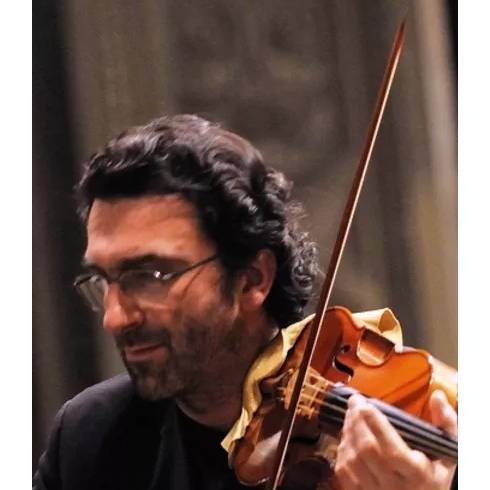 The artist
Maurizio Cadossi
Brilliantly graduating in violin and viola studies at the Conservatory "A Boito" in Parma, in 1984 he went on to attend master classes held by H. Szeryng at the Conservatory of Geneva, to later special-ize with Renato Zanettovich (Fiesole School of Music}, Gigino Maestri and Franco Claudio Ferrari. Always having a special interest in Baroque musiche also graduated in baroque violin at the Civica Scuola di Musica in Milan in 2000.
Particularly active in chamber music, Maurizio owes his formation to Elisa Pegreffi and Franco Rossi
, (string quartet) members of the famous Quartetto Italiano (Italian Quartet), Dario De Rosa and Car-mignola (Charnber Music).
Awarded in several international music festivals, he has held concerts, both as a soloist and chamber musician in the role, throughout ltaly in important festivals and concert series (Teatro Regio in Parma, the Teatro Verdi in Trieste, Estate Musicale Senese, Bologna Festival, RAI concert season of Milan, Corno Auturnn Music, Accademia Filarmonica Romana, Viterbo Baroque Festival, Teatro Massimo of Palermo, Ravenna Festival, Festival Monteverdi of Cremona, Stresa Festival, Lodoviciano Festival of Viadana, MITO Festival, Friends of Music Florence, I Concerti del Quirinale, etc.) throughout Europe (Paris, Lisbon, Porto, Vienna, Prague, Monaco of Bavaria, Santander, Amsterdam, Brussels, Nice, Lu-gano, Dusseldorf, Linz, etc.) United States (New York, UN building, Washington, Baltimore, Athens, etc.) Canada, Mexico (Festival Cervantino, etc.), South America and Japan.
Intense concert activity has always supported a steady recording activity: Symphonies by L. Boc-cherini, the G.Tartini Concerts, CherubiniWorks withGiorgio Bernasconi and the Accademia Stru-mentale Italiana, where he has always been the first violinist, for Koch houses such asEurope, music by F. Paer for Bongiovanni of Bologna, various instrurnental works (always as soloist and teacher concertrnaster) of B. Lamenti, F.Manfredini, G. Demachi, M. D'Alay, G. Valentini, A Luchesi for Tactus, Scarlatti's rnusic for Velut Luna. He has collaborated withG.Carmignola, M.Brunello, U.B. Michelangeli,G.Garbarino,G.Bernasconi,F.M.Bressan, P.Stein,M.Crippa,C.Bartoli, K.Ricciarelli and others.