Anna Caterina Binda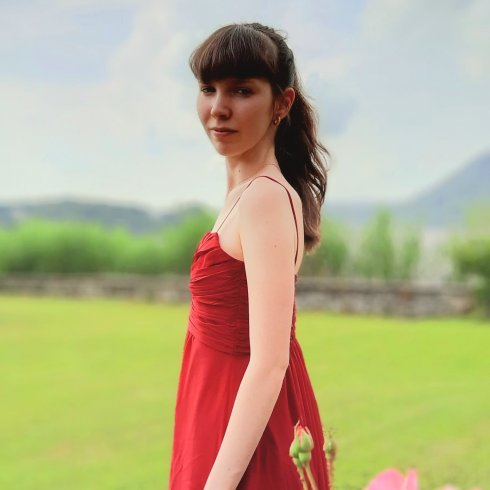 The artist
Anna Caterina Binda
Born in Varese (Italy) in 2004, she began to study the piano at age five under the direction of Maestro Paola Del Negro.
She has won awards in more than 30 national and international competitions. Since 2013 till 2016 she attended the Junior Masterclass held by Maestro Roberto Plano at the Accademia Musicale Varesina. Since 2016 she has regularly attended the masterclasses by Maestro Plano: in Campli (Italy) during the International Masterclasses, in Vilnius (Lithuania) for the International Summer Music Festival, in Portogruaro (Venice – Italy) during the International Music Masterclasses of the Foundation S. Cecilia, in Sovico (Italy) at the Association Sovico In Musica and in Rovinj (Croatia) with the support of the Foundation Dino Škrapić.
She performed at the Santuccio Theatre in Varese, for the festival Concerti d'Autunno in Sestri Levante, during the Piano Young Talents Festival in San Donà di Piave, for the Festival "Malpensa Flying Notes – Fazioli Pianoforti", in many other events organised by Lions Club and Soroptimist International and by the Accademia Musicale Varesina, for the VaresEstense Festival – Young Talents in Music and during the art exhibition "Ruggine e Salici". In April 2017 she made her debut recital in the "Rassegna Giovani Talenti alla Ribalta" by ENDAS Varese. Afterwards, she also performed in the S. Marta Church in Agliè (Turin), in S. Stino di Livenza (Venice) for the Metropolitan Festival of Portogruaro, in Naples at the Museo del Tessile e dell'Abbigliamento Elena Aldobrandini for the contest Maggio del Pianoforte, at the Museo Nazionale della Scienza e della Tecnologia Leonardo da Vinci in Milan during the Lions Clubs International Convention. In February 2019 she was featured in a long interview in the Italian classical music magazine Amadeus. In June 2019 she performed with the Orchestra Filarmonica Italiana at the Teatro Municipale in Piacenza playing Mozart Piano Concerto K595 conducted by Matteo Pais.She is continuing her studies under the guidance of Maestro Paola Del Negro and Maestro Roberto Plano (with whom she is also attending the three-year piano course at the Accademia di Musica in Pinerolo), both professors at the Indiana University, Jacobs School of Music in Bloomington – Indiana (USA).