Duosfera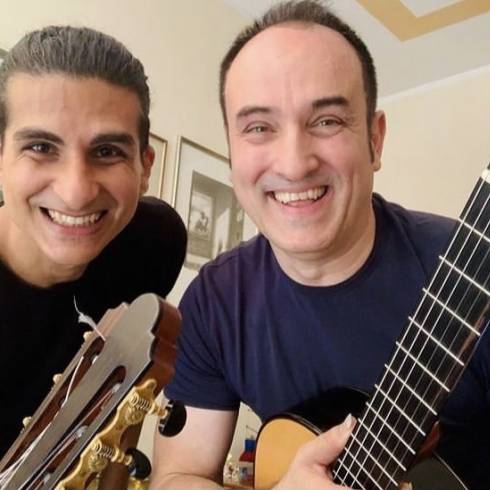 The artist
Duosfera
The Duo Sfera, special and surprising formation consists of two musicians united by the love for the search for the new and fascinated by the rediscovery of what has been and continues to be. An inclusive music, which embraces, without distinction of genre, what resonates over time and sets off for a new journey. Multiple languages alternate in the narration, the simplicity walks next to the complexity, the instrumental virtuosity enhances the compositional elaboration, alternating with an essential minimalism or an unscrupulous rebel vein that sometimes winks at irony. Known themes become the starting point for the emergence of new sound islands, original compositions come to life, inspired by deeds, legends, men, impressions, in a single sphere of communication that wants to speak to the hearts of people. A music that comes from friendship, from life, from the courage to undertake unexplored paths. Two guitars are the vessel of this adventure, twelve strings tell a story that has just begun to be written.
A guitar duo formed by the internationally renowned Brescian guitarist Giulio Tampalini and the Calabrian musician and composer Daniele Fabio, author of all the original works and arrangements contained in the album. Giulio Tampalini is one of the best known guitarists in the world today. Awarded in the major international competitions and author of more than 40 solo Cds, Tampalini has played for Pope John Paul II and performs worldwide as a soloist and with orchestra.
Professor at the "Incontri con il Maestro" International Music Academy Foundation in Imola and director of the International Guitar Academy in Brescia, since 2017 he is a Warner artist, label with which he has released the CD "The Spanish Guitar".
Daniele Fabio, guitarist and composer from Calabria, active for years as a musician and protagonist of dozens of recording projects, in 2017 released his first solo CD entitled "Mondi Interni" for the label Movimento Classical.