Mario Marzi
Bach Debussy Mulligan Morricone Ianne Rothemberg Sollima Novaro Marzi Trovaioli
Sax soul(o) " My favorite things "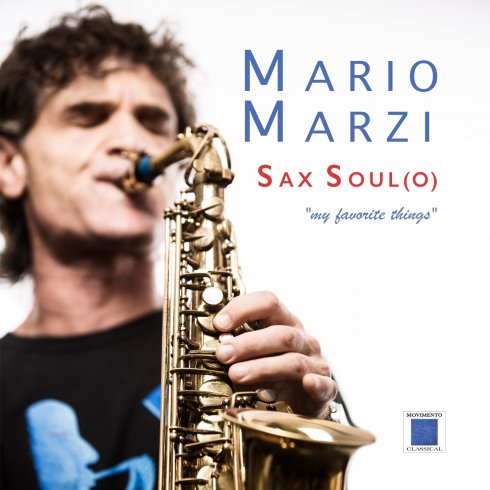 Mario Marzi
Bach Debussy Mulligan Morricone Ianne Rothemberg Sollima Novaro Marzi Trovaioli
Sax soul(o) " My favorite things "
The album
"A real journey is not looking for new lands but looking with neweyes" This thought from Proust inspired my latest record work.
In "Sax Soul (o)"there is a desire to challenge myself by getting out of the comfort zone . I have so chosen music that I feel deeply close to me, trying to read them with a new vision .
They are authors that I love and who manage to focus on the protein-like nature of my nickel pipe, which is capable of immeasurable sweetness and overflowing impetuosity, which is at ease in a tai lcoat , but also in the leather jacket of"an easy knife underage criminal" (words by Stravinsky).
Over the years, its voi ce has become my voice, a voice to teli the emotions that I struggle to express in words .

G.Mulligan - Oh Great Spirit / arr. M.Marzi
Straightforwardness that goes straight to the heart. A prayer addressed to a God so that he may assist and protect us. Here three ofthe cardinal points of Mulligan's artistic poetics are focused: beauty, grace, nobility .

E.Morricone - Morricone's Soul / arr. L. Simoni
Some of the most beautiful melodies of a genius like Morricone are revisited in a Bach key. A tribute to a giant of our time who was able to tel1 us about beauty .
Perotinus - Beata Viscera
A simple yet profound, timeless Gregorian melody. The sax tries to restare its essence by covering it with a new light . ls it perhaps a sacrilege? Maybe , maybe...
J.S.Bach / L.De Pablo - Solo - Kunst Fuge 1 / arr. M.Selva - M.Marzi
J.S. Bach - Preludio in C
Absolute music. Perfect geometries that build emotions. The tools used do not matt er, perhaps not even the performers. lt is the generating idea that guarantees the immortality of these pages.
C.Debussy - Syrinx / eia b. D. Russo - M.Marzi
The sax is committed to restoring a melody built on silence, a melody that floats in the air, in space... The last song sung by the God Pan before dying comes to Iife through "the inevitable instrument ofthe newmillennium."
S.Janne Caelum / arr: M.Marzi
Caelum is the line that ideally unites sky, sea and earth. Almost the cali to a new humanism where the other is accepted without suspi cion . Man struggles, but sax and music cando it.
N.Rothemberg - Maceo / arr. M.Marzi
A composition that is a tribute to Maceo Parker the irreplaceable saxophonist who established the sound of James Brown's band Fabulous Flame .
Rothemberg uses some circularly repeated cells as in the funky style of Brown's horn section, allowing space for improvisation.The piece takes on a different form with each performance .
G.Sollima - Yafù
Yafù is the memory of an ancient melody; it is the memory of a youthful emotion. lt takes a little for Giovanni to make us shiver . The suspended and open chords give way to a viscera! song, a music of silence, which reveals life and the infinite that contains it.
M.Novaro - Fratelli d'Italia/ eiab.M.Marzi
"Unfortunately, or fortunately l'm an ltalian... lf I was born in another piace, could it have been worse''. This sentence by Gaber sums up the meaning of my improvisation based on our national anthem . After an acid dissonant beginning , a provocation from which the contradictions of the "Bel Paese" emerge, a timid choral ensues taking its lymph through arpeggios reaching upwards almost an invocation and a wish fora newrenaissance, a rediscovered beauty.
A.Trovajoli / G. Facchini - Profumo di donna
A musical scent that inebriates. A theme that remains in our soul.
Guido Facchini, an artist of rank, has been able to keep the originai fragrance in a version that winks at Bach removing the redundancies as if it were a warning.
The invitation is to close our eyes to focus only on the scent of life.
M.Marzi - Sakurakatà
Sakurakatà is a game, a bow to my orientai friends through a melancholic melody with a Japanese aroma . The sax is played like a Shakuhaci, and narrates the charm of Sakura . A cherry tree that is a symbol of ephemeral beauty, ofthe fragility of our gait but also ofthe blossoming after each death.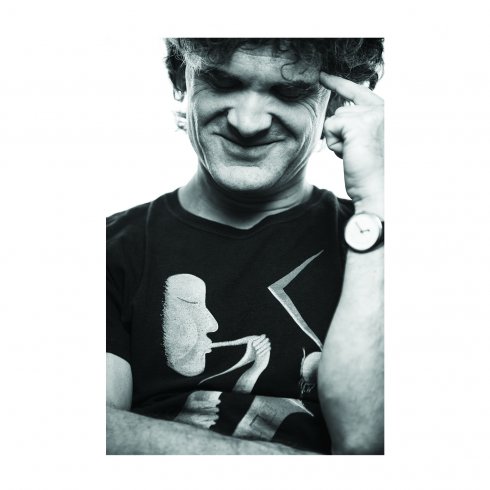 The artist
Mario Marzi
Winner of nine national and four international competitions, has performed with the most important symphonic orchestras, amongst them the "Orchestra Sinfonica RAI di Torino", "Accademia naz. di Santa Cecilia", "Arena di Verona", "Teatro Comunale di Firenze", "Teatro alla Fenice di Venezia", "Orchestra della Svizzera Italiana" and the "Caracas Symphony Orchestra". Since twenty years he has been working with the "Teatro alla Scala" and with the "Filarmonica della Scala" under the baton of the nowadays leading conductors R. Muti, C. M. Giulini, G. Prètre, L. Maazel, L. Berio, S. Bychkov, G. Sinopoli, W. Sawallisch, M. W. Chung, G. Dudamel, C. Abbado, R. Chailly and D. Harding.
He often plays with Mr. Riccardo Muti and is regularly invited to join Mr. Zubin Mehta and the "Orchestra del Maggio Musicale Fiorentino" on concert tours. He has played at famous national and international festivals such as the "Biennale di Venezia", "Settembre Musica", "La Scala di Milano", "Accademia Filarmonica di Roma" or the "Ravenna Festival". Other concerts took place in Salzburg, Athens, Madrid, Saint Petersburg and Mexico City as well as in prestigious halls and theatres such as in the "Carnegie Hall" in New York, the "Suntory Hall" in Tokyo, the "Gewandhaus" in Leipzig, the "Musikverein" in Wien, the "Schauspielhaus" in Berlin, the "Lacma Museum" in Los Angeles, the "Grand National Theatre" of China-Beijing, the "European Parliament" in Brussels, the "Ciajkovskij Hall" in Moscow and the "Liceu" in Barcelona. Marzi teaches saxophone at the "Conservatorio G. Verdi" in Milan, gives post-graduate courses and master classes in Oporto, Amsterdam, Lisboa, Frankfurt, Beijing and Denver.